(Promoted by Colorado Pols)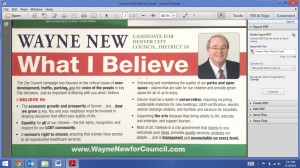 Denver City Council races are supposed to be all sweet and nonpartisany, and part of me really wishes they could be that way. But if you want to get a full pictures of a candidate, you'd be stupid to ignore their partisan history. Here's a case in point.
District 10 candidate Wayne New, who changed his voter registration from Republican to unaffiliated in March, is distributing an ad spotlighting a "woman's right to choose" among his top priorities. The mailer reads (See below.):
 The City Council Campaign has focused on the critical issues of over-development, traffic, parking, and the voice of the people in key City decisions. Just as important is sharing with you what I believe. I believe in:

…A woman's right to choose, ensuring that women have access to all reproductive healthcare services.
The advertisement doesn't tell you that New contributed $250 to Colorado Senate candidate Cory Gardner in August of last year.
Of course New's mailer is silent about this. Anyone who's politically conscious knows that 1) donating money to Cory Gardner and 2) having a woman's right to choose as one of your top priorities are 3) mutually exclusive.
Cory Gardner, now our U.S. Senator, made anti-choice legislation a centerpiece of his rise to political power, earning high praise for years from hard-line anti-choice groups, which helped him win over Republicans.
Once Gardner won his Republican primary, and began courting moderate voters across the state, he promptly abandoned his longstanding support for  Colorado's personhood amendment, which would have banned all abortion, even for rape and incest, as well as some forms of birth control.