(Promoted by Colorado Pols)
The Pope is getting all the news today on Climate, having clarified – the faithful are told to believe—that God is not OK with trashing the earth, and that we need to do something about that.
"The climate is a common good, belonging to all and meant for all."
But as Francis has his eyes on all Creation – the World writ large – the sometimes mysterious working of the world in detail are where most of the stuff gets done.  Like pollination.  This week is, after all, also National Pollinators Week. 
Birds, and bees and others among the panoply of species populating our planet are not just buzzing around your sugary drink, or swooping hotdogs off your picnic table.  They too are doing the Lord's bidding, in small but crucial ways.  Like keeping three-quarters of the world's plants alive. 
Most people know by now that bees are in decline and that this is a major problem – for the obvious reasons, because we also like food.  Some important food crops, like corn, are wind pollinated.  But most rely on pollinators.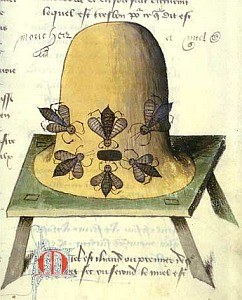 And it is not just the bees that in in trouble. Bees and other pollinators are on decline for a number of reasons.  And across the spectrum, pollinators are suffering: bees, bats, birds and butterflies– all face numerous threats that put survival of many individual species in jeopardy. The National Wildlife Federation notes in an online article:
In addition to butterflies, the NAS report provides evidence of decline in three other pollinator groups: hummingbirds, bats and—especially—bumblebees. A 2008 report from the Xerces Society for Invertebrate Conservation, a nonprofit based in Portland, Oregon, paints an even bleaker picture of the familiar, fuzzy insects' fate. Compiling data from more than three dozen scientists and "citizen monitors" across the country, the report concludes that populations of three formerly common species—the rusty-patched, yellowbanded and western bumblebee—have dropped drastically over the past decade. A fourth species, Franklin's bumblebee (restricted to coastal Oregon and Northern California), has only been seen once in the past several years.
Exacerbating many of these threats is a single issue: Climate Change.  And climate disruption is having other impacts on pollinators that in turn in time are likely to change overall ecology.